Ex-Gratia Relief for Next Kin of the Deceased
By the order of the Supreme Court, the next kin of the Deceased by COVID-19, is eligible to receive Rs. 50,000 as Ex-Gratia payment( It is basically compensation provided due to the death of deceased), per deceased person subject to the cause of death being certified as COVID-19.
How to Avail This
Citizens can access their respective state government websites to access information about it. I'll be doing it for Tamil Nadu as an Example
Citizens living in Tamil Nadu can avail this grant by accessing the Tamil Nadu government website www.tn.gov.in .

And under the "what's new" section, we can access the link to Ex Gratia Application Form (Service List)
Step by Step of the Process
Search- www.tn.gov.in

The link will take you into the interface shown below , where you click "more"( which has been underlined in blue) under the "what's new" section


It will take you to this interface as shown below where you have to click the link which says "December 7, 2021 Ex- Gratia for COVID-19"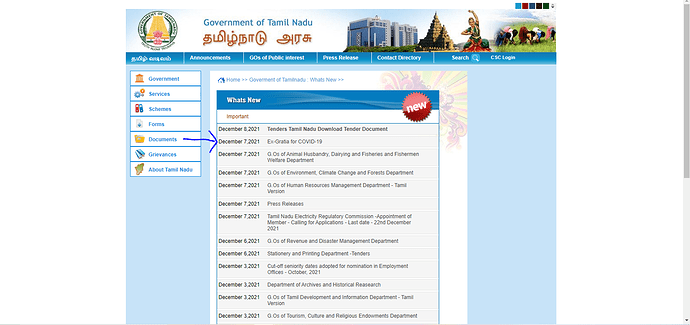 It will then take you into this application form(as shown below) where you will need to fill in the details asked about the deceased and the next kin of the deceased.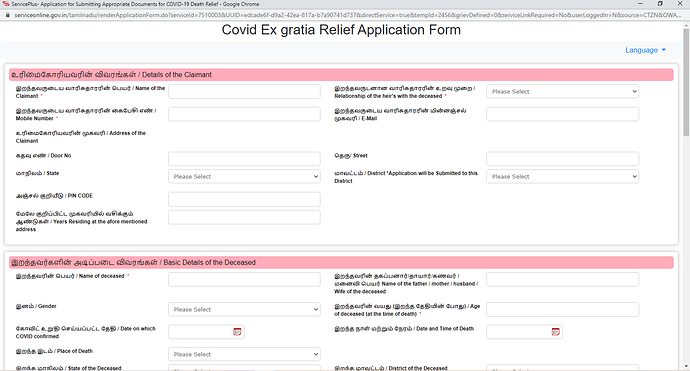 Then fill the details and proceed to get the Ex-gratia payment.
Details That Are Needed to Fill The Application Form
The details regarding the Claimant(the person who is seeking the Ex-Gratia Payment as the next kin of the deceased by COVID-19) such as their Name, Mobile Number, Email, The address, the pin code and district in which the claimant lives in.

The Basic details of the Deceased( the person who has died by COVID-19) such as the name of the person, names of the relations of the deceased(mother father, wife/husband), date on which COVID-19 was confirmed, date, time and place of death. Permanent address of the deceased,

The details of the legal heirs of the deceased, such as Name, mobile number, Aadhar ID card of the heir, bank number, account number and IFSC number.

The address needed for communication, The address of the hospital where the deceased was treated and the address of the hospital where the deceased passed away.
Suggestions:
It is also can be availed in other states, as per the Supreme Court order, if you want know whether your state provides it, try visiting your state government's official website for more information.
If there are any more suggestions or know whether your state provides this, comment down below
If you need any help do comment here our community will help you out