Paryavaran Mitra Initiative
Paryavaran Mitra is an initiative of Dept. of Environment of Govt. of NCT of Delhi. It invites citizens to contribute towards improving the environment of Delhi.
It was hosted by DDCD, think tank of Govt of NCT of Delhi and Reap Benefit has signed an MoU with DDCD to build the volunteer network and implement this program with them through the chatbot system across Delhi.
Citizens can directly participate in this initiative by following the process given below:
By giving a missed call on 8448441758 and after that they have to register themselves on this chatbot system on WhatsApp.
After completing the registration process, they get individual and community level activities based on three themes: a) Increasing Greening; b) Pollution Control; c) Waste Management to adopt an eco-friendly lifestyle to contribute to this initiative.
Environment policies of Govt of NCT of Delhi as 'AAPKI NEETI' are also being shared to create awareness regarding the policies and take suggestions from citizens to rethink about the policies.
four 'AAPKI NEETI' have been shared on chatbot and the data of responses and citizens's feedback is given below in table 1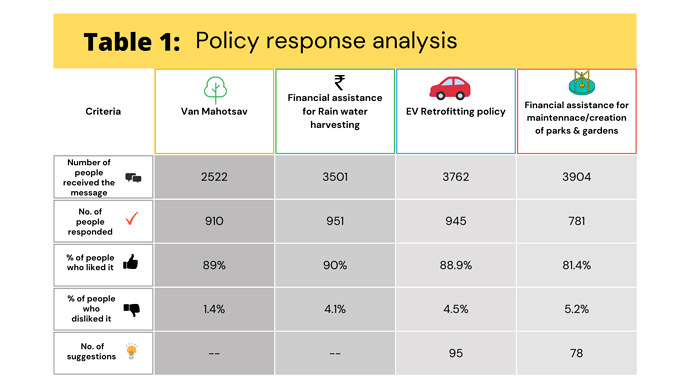 Here are some top valuable suggestions on all four policies shared by the team:
Top suggestions for Van Mahotsav are as follows:
#1
"Please provide plants to everyone those who are interested in this initiative"
#2
"It's a very good initiative by our government but I would like to add that citizens can be involved in this initiative.
1.As citizens can notify the following department about their area which requires plants or green cover.
From this we can know the ground reality and participation of citizens will be promoted

Actual location will be notified.
4.Chances of more area to be covered will come in notice.
All residents should be able to get at least 2 plants per house so that they can themselves do this in their home or locality.

Plants can be available at the nearest MLA office or department office.
I this by doing this we can achieve our target and involvement of citizens will be promoted and increased naturally"
#3
"How to ensure whether the planted saplings survive?"
#4
"I'm planting trees and plants in the Park regularly and I don't have much space in my home to maintain a plant"
Top suggestions for Financial Assistance for Installation of Rain Water Harvesting system are as follows:
#1.
Scheme should have a component for less than 100 sq. Metres also.
#2
the rain water harvesting is done in our place but there is no point in doing it as there is no rain, I want this to be done in government parks only. ( Translated from Hindi)
Top suggestions for New Retrofitting technology to convert fossil fuel vehicles into Electric Vehicles are as follows:
#1
"Please, encourage three-wheeled Scooters to be used by Ladies as well as old persons."
#2
"First do it for government vehicle"
#3
"Make Public transport of world class level for every class of commuters"
#4
"Vehicular population remains the same throughout the year. Variation and high level is due to other reasons which need to be looked at.
Steps
All Delhi should have green cover with trees, plants and grass ( except metal parts).

Public transport should be very comfortable and easily available but not operating within colonies, which can be serviced by free e- rickshaws (no need for free water and electricity which has indirect pollution and carbon generation and are wasted)
WHY IS YAMUNA DIRTY - govt cannot control that than how other efforts will succeed"
#5
"This scheme is good but it costs too much"
#6
"The initiative is very nice regarding this …
What u need to do is to focus more on spreading awareness regarding this so that most of the people get to know about it. Start doing TV and newspaper advertisement for this"
#7
"10-year diesel and 15-year petrol vehicles must be permanently removed" (translated from Hindi)
#8
"Delhi Government should give subsidy to such converted vehicles" (translated from Hindi)
#9
"Please keep the conversion cost to a minimum so that more people would join this." (translated from Hindi)
#10
"Other state vehicles entry to Delhi must be regulated (translated from Hindi)
#11
The power output of the kit is much lower than the original vehicle and will limit the use of the vehicle to a much smaller area than before. This will render the vehicle redundant to a large extent and also limit the possible resale or scrap value of the same. The added cost and environmental impact of the retrofitted kit may not provide the reduction in air pollution as expected.
Top suggestions for Financial Assistance for creation & maintenance of the parks and installation of STPs are as follows:
#1
Under this policy requirement of a measurement certificate of parks by
MCD Horticulture dept. should be dropped immediately.
#2
How can a resident of a private colony contribute to the cause?
Retired person should be given opportunity to work for the cause on
voluntary basis for morning or evening hours say 4-5 hours per day
#3
What is the point of all these parks when the RWAs keep them locked
most of the time?
I request you to open all the parks in Delhi at all times. What is the
logic behind closing them during daytime? Not everyone has the same schedule.
For example, I have an unfixed schedule and I return from office at different
times. And even if I want to visit my colony park, it is closed during daytime
mostly. It only opens for a couple of hours per day.
Please act on my suggestion and make nature accessible to everyone at
all the time.
#4
In Delhi some areas have more parks and some areas have no parks if we
planted trees in that area maybe it is more useful
#5
Rs. 2.55 lac per acre is very small amount to maintain 1 acre
should be seriously looked into.
#6
RWA members eat the money themselves and not do anything about it,
even if they plant trees in the park, kids play cricket and spoil the trees (Translated
from Hindi)
#7
The financial amount given should also be inspected so that it is not misused. (Translated from Hindi)
#8
The MCD also funds the parks in DDA flats. But it has been seen many times that there is no source of water in the parks. The mcd took out the pumps which were there earlier. Now water is provided in the parks when it rains. Or some people like us irrigate them from home by installing pipes. Please make some arrangements for it. (Translated from Hindi)
#9
Corruption prevails through this scheme RWAs takes most of the money