With Chennai recently seen its heaviest rainfall since 2015 floods. Lot of areas in the city, are either flooded or have a lot of water clogging spots - whatever the case it cases difficulty to pedestrians and motorist impacting normal routine life of many even after rains settle down. While lot of people are busy in complaining about this on social media and other channels a group of residents from Mandaveli area decided to do to something different and it paid off - they decided to be more proactive.
We must not shut our doors and stay inside when some civic work is being carried out. Instead, we get out there and try to understand the process.
After 2015 floods, RWA's were formed for the streets of Raja Street and Poonga View which are on of the flooded areas during that time. However, they couldn't find the actual reason for the "why of water logging" in their area.
Storm Water Drain Network
With the help of audit conducted by an organisation "Arappor Iyakkam" the RWA's were able to under the infrastructure available and gave a fair idea about why the floods are happening in their network.
RWA's did the audit in their street and proactively requested the corporation for regular desilting. When the process was undertaken the citizen proactively involved by auditing the process and also point out spots of water logging, drainage and storm water mixing areas, etc.,
Process & Results
Ensuring proper drainage is a continuous and sustained effort. The residents hit roadbloack when the sewage system was shutdown to avoid contamination of marine life. Over the process, RWA's realised there is no complete Strom Water Drainage network in their street. They proactively conducted audits and petitioned officials continuous requesting for the same. After 2 years of efforts, they got the approval for the same.
The group pooled funds to construct recharge wells since they believe only the excess water should go into the storm water drainage network.
When any kind of road construction work carried out, the residents made sure to proactively involve in the process to indicate the spots of recharge wells and storm drainage network to inform officials to make slopes in a way the water flows into the recharge wells and storm drainage network.
Outcome
The streets of Poonga view and Raja street found to have little to no water logging despite of the heaviest rainfall after 2015. It is an great example of community coming together and working with officials to make a change that helps everybody.
Let us know what do you think? You can share in the comments below.
If you are super inspired and want to start something right now for your street. We have a call to action.
Call to Action
We are taking help from technology and local citizens to mark the spots of water clogging at hyper local level. This information which is community sourced and verified will be made open which can help in being proactive to avoid clogging in future.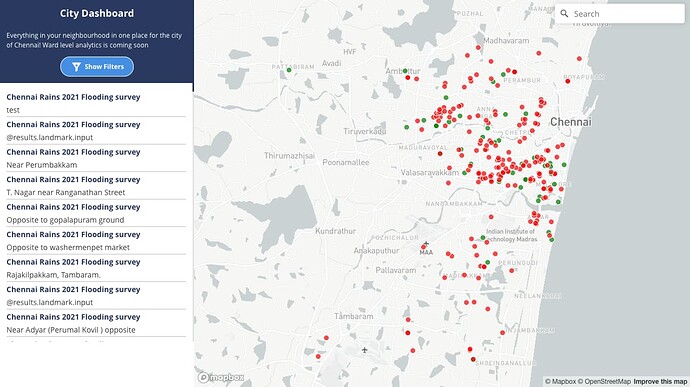 We have so for able to source 412 spots across chennai and you shall see the same on our chennai dashboard with the link given below. If you want to add water logging spots just click this link to our whatsapp chatbot and hit send (or type and send 'chennairains').
Link to add your hotspot: Link to whatsapp
Link to the city dashboard: https://chennai.solveninja.org
Credits: This writeup is a summary from the citizenmatters article.