How it started:
When a group of Solve Ninjas worked on a simple solution to reduce air pollution, a few questions popped in their minds: How might we better understand the impact of our actions on air quality? How do we measure air pollution?
What happened:
We investigated different kinds of devices to measure air pollution and found that they are mostly really expensive and not accessible to the public. What was worse, there was no local data collected consistently over a period of time for analysis and prediction!
We procured simple low-cost sensors, tested them over a period of time (6 months) under controlled environments and made it usable by any DIY enthusiast who is interested in knowing the air quality of their local communities and tracking it. Hence was born Breathe: a DIY air quality monitoring kit that can be assembled, taken apart and re-programmed according to your custom, local needs.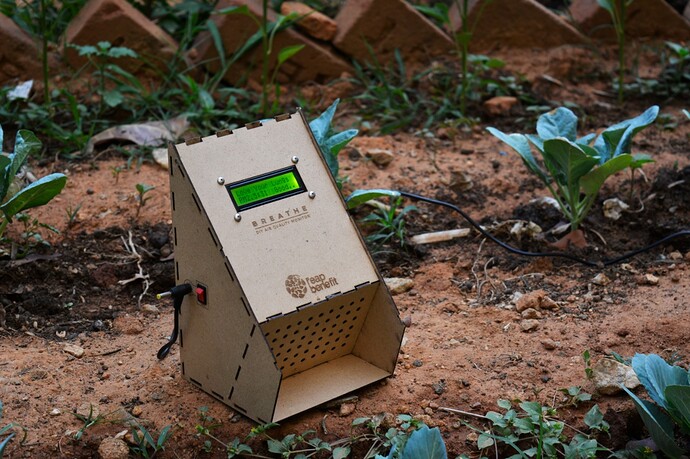 How have people used it so far:
Taaniya Shankar wanted to understand the impact of her indoor air purifying plants. Does an aloe vera plant, or a sansiviera plant really reduce particulate matter in air? She wanted to find out using reliable, but low cost sensors.
She used Breathe to monitor air quality with and without her indoor plants. She found that there was a significant decrease in PM2.5 values when the plants were in the room.
Having substantial evidence to back her up, she encouraged all her neighbours to get air-purifying indoor plants for their homes.
We installed 8 AQMs in Bangalore, and 2 in Chennai in the week starting from October 26th, continuing till November 11th - the week when Diwali festivities are high, and a lot of roadside bursting of crackers. Here are some highlights:
For more information, read here.
Impact of firecrackers on particulate matter:
1 kg of firecrackers burst = 30 g of particulate matter
released into the air.
5 million kg burst in Delhi = 150 tonnes of particulate matter released into the air.
which is 4x the pm released by industries in a day.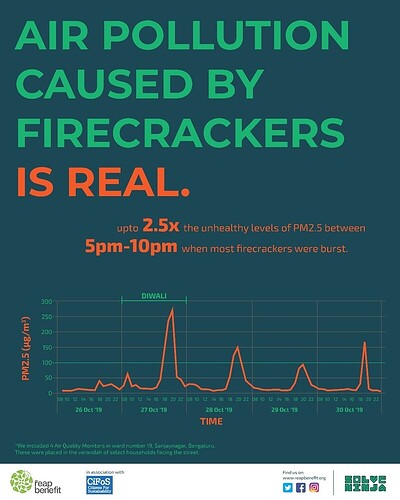 What you can do instead of bursting firecrackers on any occasion:
Reduce bursting of firecrackers.
Switch to eco-friendly crackers - these produce same amount of light and sound effects but with lesser particulate emissions.
Light lamps, candles and LED fairy lights
spend quality time with family and friends.
Curious about how your local air quality will change this year?
Contact us to know what you can do to monitor air quality in your neighbourhoods.